Audio Authority News
Click for
press releases
and
high resolution images

---
Video: Ground Power Unit for Aviation provides flexible options including battery charging
(AV Web Flash newsletter Volume 19, Number 7a, February 11, 2013)
BlueBeam(tm) recommended solution for PS3 integration
(rAVe publications Volume 9, Issue 21 -- November 14, 2012)
Dealerscope Magazine featured an Audio Authority HDMI audio demonstration system in their March 2010 issue, page 80.
(See more info and pictures of the Sherman's demo room here)
---
Archived Newsletters:

Custom Integrator Newsletters
44 Using Mono and Stereo for Distributed Audio
43 Better Support for Control4 Dealers

42 Dealer Pricing Update

41 Meet Tony Ferrero, Our New Sales Manager

40 FlexPort and the Zone Source Challenge

39 FlexPort Transmitters Now Shipping! More Archived Newsletters...
---
New Product Announcements
Stay on the cutting edge: hear about new products introductions first
---
Service Bulletins
Critical product information that may affect your installations
---
Price Sheet Updates
When a new price sheet is published, this newsletter lets our dealers know
---
Product Updates
When changes occur, these mailings will keep you informed
---
Sign Up for E-mail Newsletters

Custom Integrators –
sign up
to receive:
Audio Authority product updates

New product anouncements

Installer tips and techniques

Audio Authority specials and closeouts

Price sheet updates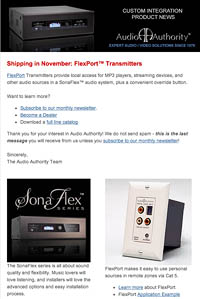 You can subscribe to our e-newsletter with confidence. We respect your rights and take unsolicited email very seriously. We will not sell, rent or in any way share your information with any third party.