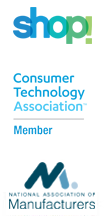 Above: Stereo East in Frisco Texas uses an Access system to demonstrate in-wall, ceiling, and outdoor speakers.



In-Wall Speakers or Outdoor Speakers

In this system the customer can easily switch up to 16 speaker pairs. Just turn the knob on the 906 Control Panel and the system switches to the new speaker number.  A dedicated DVD player and receiver drive the speakers. As an alternative, this type of display could employ a selector button next to each speaker.

An LED indicator can be installed next to each product to indicate the selected speaker (notice the green light under one of the speakers below). It's easy to expand the number of speaker pairs (up to a maximum of 99) by adding 932 switch modules.
 



This switching system is designed to switch speaker pairs, but it is easy to use the same simple approach for speaker packages, such as 5.1 channel systems. See a similar application with
5.1 surround speakers
.




Demo System Elements: