2.1 Channel System for Whole House Audio


The SF-16M makes it easy to use passive subs and full range speakers in any or all zones of a home. The example below shows one SF-16M distributing eight two-channel sources to six zones. Each zone has an in-wall subwoofer and two, three, or four architectural speakers. The full range speakers can be mono or stereo, as appropriate to their placement. 

High-pass and low-pass butterworth filters allow optimal signal distribution to the speakers and subs. The sub crossover point is adjustable per output. In addition, a parametric EQ can be applied to any output, fine tuning for speaker type and location. 

Volume control is simple to implement. All speakers and subs in each zone can be designated as a group, so that a group volume command can be sent to adjust volume simultaneously. The ratio of subwoofer to full range output levels are adjustable, and remain proprtional.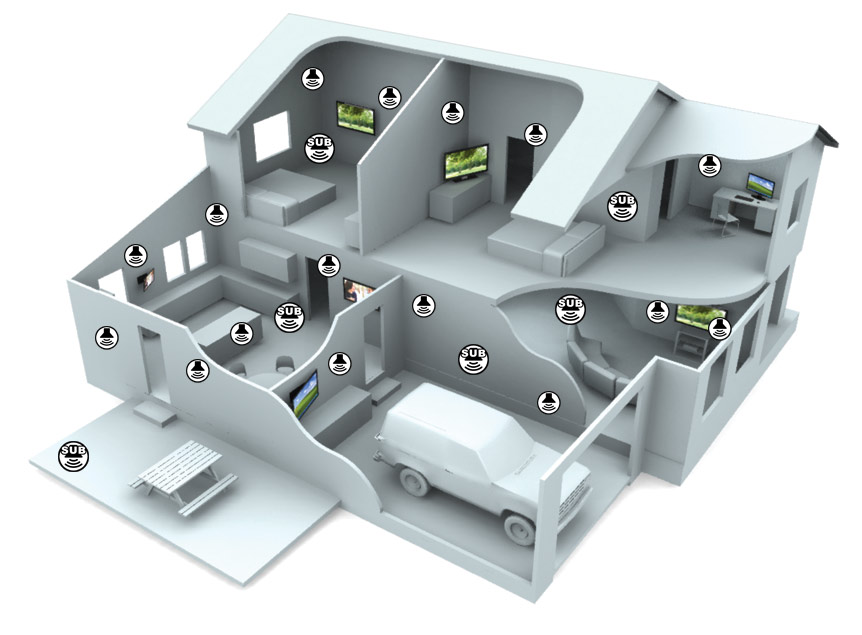 Setup Using the PC Utility

To set up a low-pass filter for a subwoofer output, select the output channel (Kitchen3, in this case) and choose Low Pass in one of the seven filters on the right. For the frequency, enter a rolloff point. When you are done with all the DSP settings, export your settings from the Utility to the SF-16M to hear the results of your filters. Set up high pass filters in the same way.


Serial Commands

All settings, including DSP, may be changed using serial or Ethernet commands instead of the utility. When using serial commands, you can hear the results of your adjustments on the fly. SonaFlex Commands (56.00 KiB)  to see all commands with explanations and examples. 
 
More Information: