Leadership Change Announced at Audio Authority

On October 15, 2018, Audio Authority founder, chairman, and CEO Jonathan Sisk announced today to a gathering of employees that company president, Bob Sollee, would be stepping down November 12, 2018 and moving to an advisory role anticipating his retirement in early 2019. Sollee joined Audio Authority's leadership team in 1984 and became president in 2001. "Bob has led our company with steady character and resolve for many years. To many associates, customers, and business partners he has been the face of Audio Authority for decades. His departure will be a significant loss for us, but we wish him every success and happiness as he retires and explores new opportunities."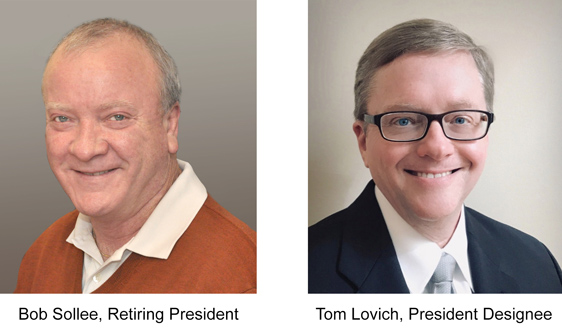 Sisk also announced that succeeding Sollee as president will be Tom Lovich, currently the firm's operations manager. Tom is a native of Akron, OH and earned a degree in Industrial Engineering from Purdue University. His experience includes positions at a number of Fortune 500 firms, including Emerson Electric, Texas Instruments, and Trane prior to joining Audio Authority. Sisk commented, "Tom brings a broad background to the role, with extensive experience in Sales, Marketing, Product Management, Strategic Planning, Manufacturing Operations, and Engineering. We have benefited from his work ethic, his energy and character, his decision making, and his management style of engaging those closest to the work being done. We look forward to Tom's leadership."

Tom and his wife Melanie reside in Lexington, KY and have two children, Troy and Stephanie.

The transition has been structured such that both Bob Sollee and Tom Lovich will be available to Audio Authority's national customer base for several weeks to insure minimal disruption to its clients.

Audio Authority was established in 1976 and is a leader in specialty electronic design and manufacturing. The company employs about 50 full-time associates at its 4.5-acre campus in Northwest Lexington.
 Learn more about Audio Authority history and products.

Direct inquiries to jonsisk@audioauthority.com.