Put More Boom in Every Room!
It's easy to to add that extra thump in selected 2-channel zones.
Harness the digital signal processing horsepower in the
ADX
to
create a lowpass zone output and pair it with a full range output.
The resulting "2.1 zone group" responds to switching and volume
commands in tandem.
How it Works
Designate any zone output as a lowpass sub out, and
group it
with a full range or high-pass zone.
The 2.1
zone group
now functions as one zone, responding to group switching
and group volume commands in tandem. Any serial controller can also adjust the
crossover frequency and independently raise and lower the subwoofer channel volume on the fly.
Setup Details
Use the 
ADX Setup Utility
(shown below) to designate 2.1 zone groups. You can adjust the low-pass filter for sub zone outputs, and the EQ settings for full range satellite outputs. For example, a zone named "Dining Rm Sub" will be grouped with a zone named "Dining Rm" so that switching and volume commands can control them together. The installer can either connect the ADX sub output to an amplifier in the rack or to a powered sub in the zone.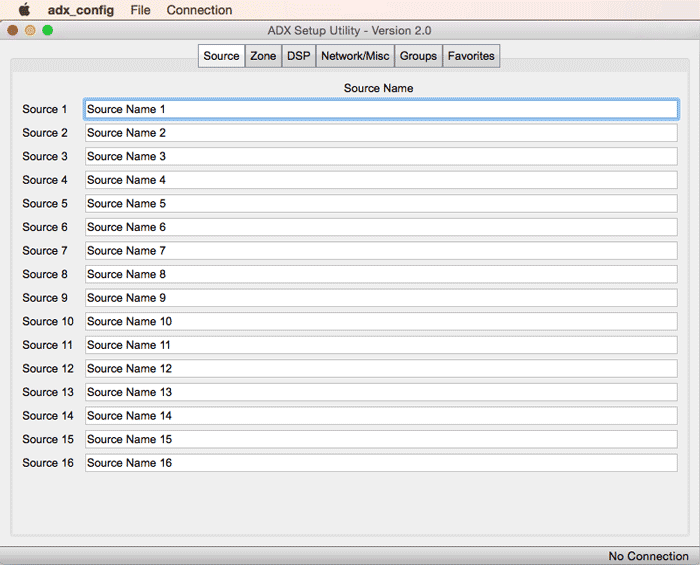 Control Options
The ADX can be controlled via IR, Ethernet, or serial commands via leading control brands like RTI, Control4 or URC. A stand-alone application can be controlled using the Andorid or iOS app. The controller can be programmed with custom buttons for adjusting overall volume, boosting just the subwoofer volume, and changing the crossover settings on the fly.



More Information: