Guitar Speaker Demo Challenges
Musical Instruments as the Source
Customers demonstrate the speakers by playing an instrument that plugs into a dedicated amplifier. The control panel, mounted to a stand, is easy to operate while holding a guitar, or standing at a keyboard.

User Interface
The control panel offers A/B options - choose a speaker to audition using the the guitar, and listen to different speakers for comparison.
The design challenge was to create a user interface with many features that is still easy to understand, and stands up to heavy use by the public. This industrial tablet provided the perfect form factor for the custom interface. 
To select a speaker on the comparator, scroll to the desired speaker card. Touch the checkbox to activate a speaker position. Touch a different speaker to select it, de-selecting the previous speaker. To add a speaker to your current selection, Long-press the checkbox of the second speaker you wish to add. Use the thumbs-up icon to mark your favorite speakers, for future reference.
LEDs are installed in the cabinet next to each speaker to indicate which speaker is playing.
Switching
The audio signals from the guitar are routed to an amplifier and then to a bank of speaker switch modules which route the audio signals to any of the speakers in the display. The swich modules are housed in a custom rolling case so that the whole system can be taken to trade shows. 

The Customer Experience
Just as crucial as the individual parts, the overall experience must be designed with care. What do customers see and hear as they encounter the display? Can the customer always see which speaker is being demonstrated? Is it easy to use the A/B feature? We put the system through every possible scenario to refine its behavior, to make sure it performed optimally.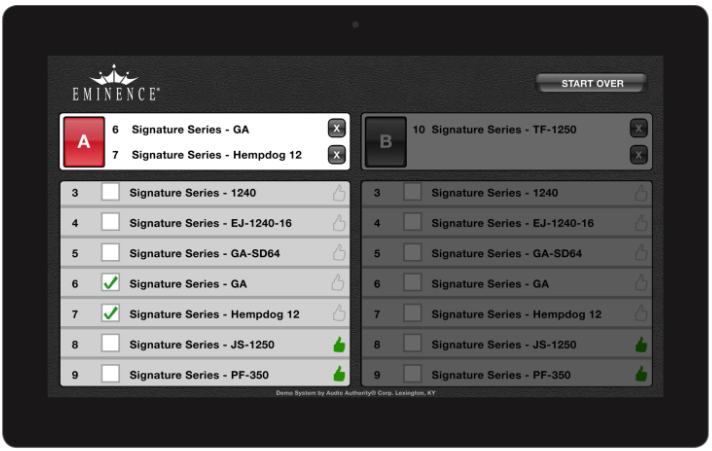 Eminence Speaker Comparator Graphical User Interface.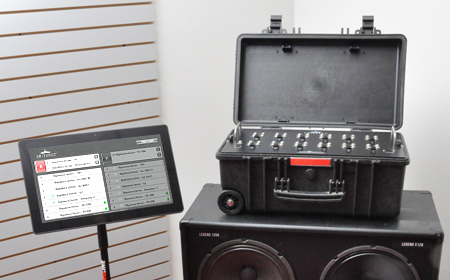 The touchscreen is mounted on a stand for easy access while holding a guitar or other electronic instrument. The switch modules are all mounted inside a rolling case for portability.