Home theater systems are full of features and choices - if you want to cut through the clutter and sell home theater based on how it sounds, try this simplified method. 

Using product select buttons, this home theater speaker switching system is easy to use. Simply press the button for the system you want to hear from the comfort of your home theater seat. This approach is perfect for a good-better-best presentation, putting all the focus on the theater experience.

Mount the buttons in a surface that is easy to reach from the listening location. Display only as much information as you need next to each button.

If you want to present more than eight speaker packages, the 906 control panel is a better choice.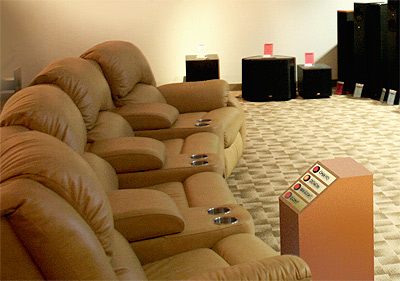 The interface provides just enough information, clearly shows which speaker system is playing, and allows easy switching.