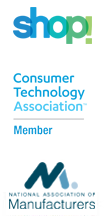 The Ultimate User Interface: a Custom Tablet


Our team can develop the right simple, fun and effective graphical user interface for your project using a commercial tablet (a touchscreen with built-in Android operating system). Choose from a variety of screen sizes, and add other modules such as audio switching, amplification, and lighting effects to make a dynamic retail presentation. 



The Klipsch Example

We created a custom Android interface for this beautiful 15.6 inch commercial tablet to make it attractive and easy to use. Klipsch provided product photos and descriptions, and gave us licensed demo content. We worked together to make sure the user interface was smooth and easy to understand, keeping the focus on the products. We designed and built audio switching and amplification to present Klipsch loudspeakers at their best in the retail environment.

Call and tell us about your retail challenge - be it audio or any other merchandising or educational display - that involves interactive sound, lighting, or video material. Audio Authority is your partner to create an interactive experience.



Tablets are available in several sizes, enclosed or open-frame, as pictured above.

Options

Sizes: We offer these standard sizes: 32, 21, 15, and 10 inches, measured diagonally. (Specifications)
Custom Content and Graphics: We create images and designs that compliment your brand, and your logos, product images, and video productions can be formatted to play on our device. 
Commercial Content: If you need the tablet to be a music or video player, you'll probably need to obtain and license the songs or movie clips. Call us to get specifications on audio and video formats.


Operating System: Android is the most cost-effective, and most versatile. We also develop on the iOS platform.
Connectivity: Our tablets connect to a variety of external devices like media players, audio switch modules, and lighting controls. We can also broadcast serial commands via USB to control TVs or other devices. 

FAQ: Tablet Control

How reliable are tablets in a retail environment?
We have tested the sturdy industrial screens we offer for durability in public use. Our software development process includes hardening for retail, so that customers cannot exit the application or tamper with the device. 

Does Audio Authority produce all the graphics?
You can give us your photos and video, we can create custom art, or we'll work together to acheive the right look. 

Does Audio Authority produce or license music or video?
No, but we can incorporate your original media, or the copyrighted material that you provide, as long as it is licenced for use in a retail environment.

Is it expensive?
High quality commercial Android tablets are more affordable than ever, so if it is the right solution for your project, it may be the most cost-effective solution as well.