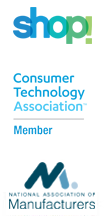 EDID Controller

HDMI EDID Controller
Model 1322D





Key Features:

Sets EDID settings to desired values

Adjustments for resolution, audio type, system reset

Installs in HDMI signal path after source device 


Categories: Showroom Video Distribution, Control Converter, Video Converter, Commercial HDMI, Converters





Controls




Overview

HDMI is designed as a plug-and-play system, but the automatic EDID settings negotiated between devices can sometimes cause failures or less-than-desirable operation.  The 1322D EDID Controller edits the EDID table to present the preferred settings to a source device, helping ensure proper resolution and audio settings.

Key Features

Supports HDMI 1.3 and DVI 1.0 signals
Embedded EDID controller
External LED array with push-button adjustment

EDID Adjustments

Video resolution (HD or PC resolutions incl. 1080p, 1080i, 720p, UXGA, SXGA, XGA)
Audio format (Bitstream, 7.1 channel LPCM, 2.0 channel LPCM)
Color bit-depth (8, 10, or 12-bit color)
System reset (on, off, reset)

Specifications

Clock Rate:
I/O Connectors:
Power Supply:
Controls:
Size (H x W x D):
Weight (net):
2.25Gbps
HDMI female, Type A
5VDC, 2A (Model 571-022)



Reviews

Frequently Asked Questions

Q: When should the 1322D be used?
A: The 1322D is especially useful in complex HDMI installations, such as retail showroom demonstration systems that share numerous sources, amplifiers, and displays in a single system.  For custom integration applications, the 1322 can be used to minimize sync time on displays and to ensure consistent performance by troublesome devices.