Overview
The HXE-11 enables long distance extension of HDMI signals over a single RG-6 coaxial cable.  The bandwidth needed for HD video transmission requires high quality RG-6 with good crimp-on BNC terminations. The kit includes one Model 1341T transmitter and one 1341R receiver.  The 1341R also features a loop-out connector, allowing a separate run of coax to feed another receiver or a continuous chain. The receiver includes a termination resistor for the last receiver in the chain. Capable of distributing today's latest video and audio formats, including 1080p video with 36-bit deep color and lossless audio, the system is fully HDMI compliant.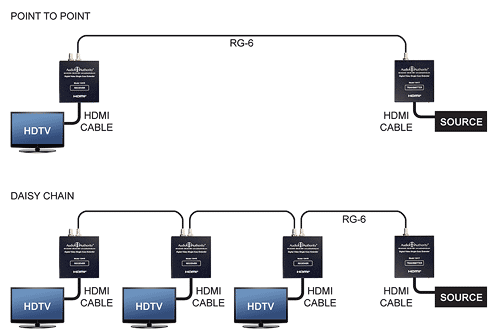 Frequently Asked Questions
Q: Does the HXE-11 work with any RG-6 cable?
A: The HXE-11 must be used with high quality RG-6 because of the enormous bandwidth required for HD video formats. Our tests yielded excellent results using Commscope F660BV Brightwire cable at 200 feet. Use equivalent or better quality cable for all HXE-11 applications, and specified BNC terminations. Always terminate the unused BNC jack on the last receiver with the included termination resistor plug.
Q: Does the HXE-11 work with RG-59 cable?
A: The HXE-11 kit is specified for use with RG-6 cable.  RG-59 is not recommended because the bandwidth is typically too low for use with the HXE-11.  If the picture does resolve at a given distance over RG-59, the picture quality is the same as RG-6.
Q: What type of BNC terminations should I use?
A: Good compression fittings provide the consistent impedance characteristics required for HXE-11.  Do not use F to BNC adapters -- they introduce too much resistance.  Soldered connectors are not recommended.
Q: How can I tell what kind of coax is installed in a house?
A: There is no way to be sure that any pre-existing cable will work with the HXE-11 short of actually testing it, but here are a couple of hints. RG-6 was introduced in homes with the advent of UHF television in the 1960s. RG-6 has an 18 GA center conductor (RG-59 is smaller). If you can see enough of the wire, it may be printed with the brand and some specifications.
Q: Does the HXE-11 work with HD-DVD players?
A: No, the HXE-11 does not handshake or pass any signals from HD-DVD players.