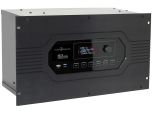 HLX Modular Audio-Video Matrix
HLX Series - Discontinued
The HLX™ Series Modular Matrix can be configured to switch up to 12 audio-video sources to dozens of zones. Up to 16 sources are possible for audio-only HLX configurations. Ethernet, serial or IR control, open control architecture, DSP.  Note: The HLX card cages are no longer available, but some cards and receivers will be available for a limited time.
Product Details