Among the MediaHub designs developed by Ascentic, there are three that have multiple HDMI outputs. These devices may appear to have a similar function, and the obvious difference is the number of HDMI ports, but there are more important differences.
.
Which MediaHub is Best for My Products?


Let's first contrast the features and purpose of the MH10 series vs the MH4. While the MH4-HD was designed to output audio and video to four sinks (AVRs or TVs), the MH10 series is designed primarily for HDMI audio (sound bars in particular).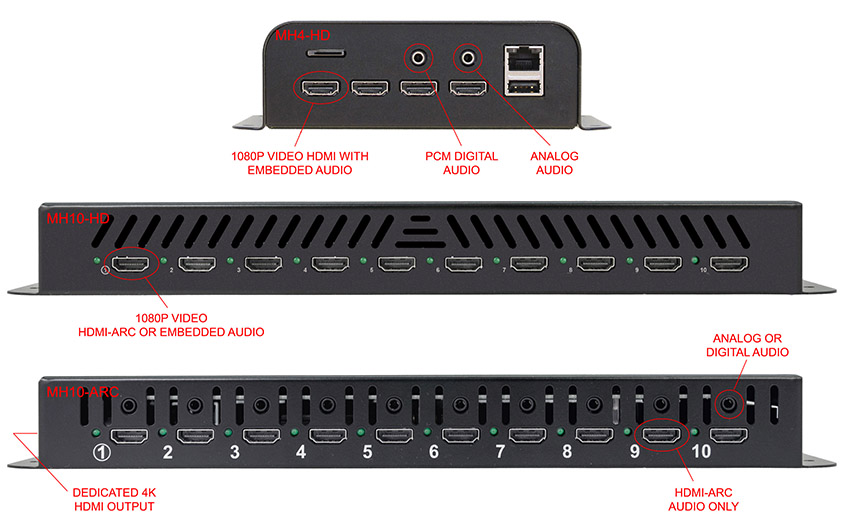 What is so different about today's sound bars? Many sound bars are designed to function using Audio Return Channel (HDMI-ARC), which is not the same thing as HDMI with embedded audio. The BrightSign engine built into MediaHubs can output many audio formats, up to and including Dolby Atmos. The MH10 series adds Audio Return Channel to the list, making it ideal for sound bar demos. Now for the differences in the MH10 series. Think of the MH10-ARC as being focussed on ARC capable sound bars, but it has other types of audio connections in case some of your sound bars don't have an ARC input. 
How about MH10 series video? While the MH10-HD can support one or more 1080p TVs on any of its 10 outputs, the ten HDMI-ARC ports on the MH10-ARC do not support video at all – instead, its 11th HDMI output is designated for a 4K video display. 
On the MH10-HD, the EDID for each HDMI port can be individually tailored to the requirements of the presentation, and the capabilities of the connected HDMI device – source or sink – so the MH10-HD provides lots of flexibility, whereas the MH10-ARC is purpose built for demonstrating sound bars. The ten HDMI-ARC outputs feed Audio Return Channel to sound bars and for those without HDMI, the the auxiliary 3.5mm port provides either analog or digital PCM audio.
Some of you may be wondering, where did we get ARC anyway, and why is it important? Back when HDMI was first implemented, it was assumed that the notion of "source" (e.g. Blu Ray player) vs. "sink" (e.g. TV) would remain constant. Since that time, the TV has started to function more as a source (smart TV with streaming services), and audio devices (sound bars) can now function as the sink device – the end of the line. With ARC, the TV can send audio to the sound bar via the HDMI cable, instead of using some other audio cable. You may wonder if that is simply a matter of convenience? Many of today's sound bars do not have any other input than HDMI, so analog and optical cables are no longer a universal fall-back. HDMI-ARC is quickly becoming the standard method for connecting audio devices to a video system, so it has become essential.
There are a few other MH10 series features you should know about.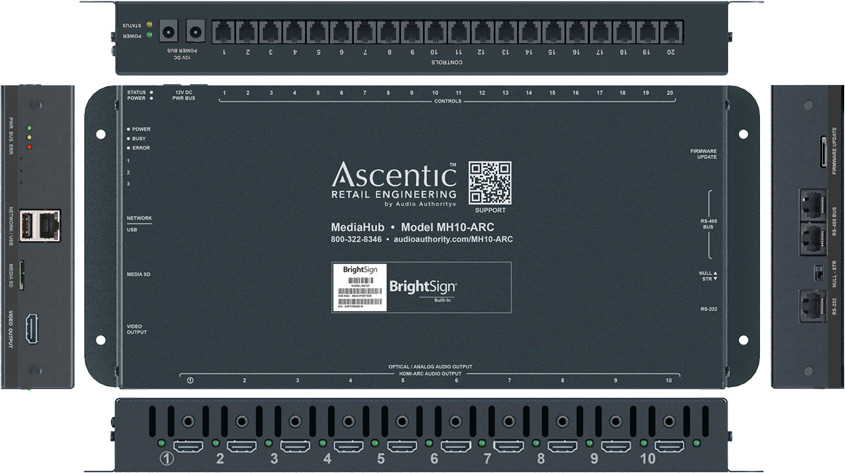 Firstly, your CEC commands are managed by a dedicated microcontroller, so that you can be sure equipment is turned off and on at the right time, and devices are muted or unmuted when that is required for your presentation. 
Secondly, the 20 ports along the back of the MH10 devices can support multiple push-buttons or touchless sensors, depending on the requirements of your application. You can program each position to do something different – start a media track, adjust volume, mute the TV, etc. You can design your BrightAuthor experience to do whatever you want, or get us to do it for you. Questions? Probably, so don't hesitate to call.  
Share this post