At the FSPA Conference this year, we announce the new lane card for our Series 1500 A-V hub. It offers a built-in solution to stream lane cameras to an NVR. Each lane card combines its four camera outputs onto one network jack.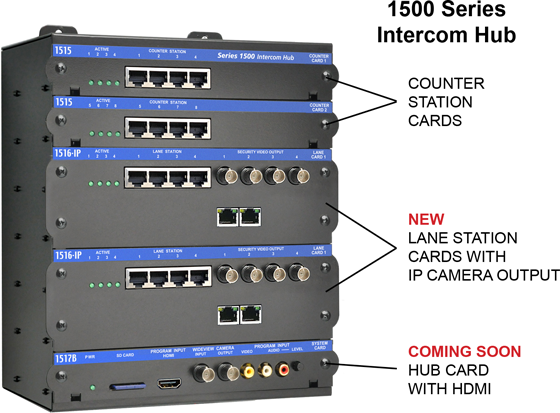 Two 1516B-IP cards may be installed in a hub, covering a maximum of eight lanes, as shown above. The new IP lane card has network connections that allow the system to send all eight of the lane camera feeds to a compatible NVR. It's ONVIF conforming, which means simple plug-and-play installation. The analog BNC outputs are still available for analog monitors as well. Projected availablilty in 2024.
Any existing Series 1500 hub will accept the new IP lane cards, though some older hubs may require an upgrade. We would love to hear your feedback about IP camera feeds to NVRs - give us a call!
Share this post