I provide commercial pilot services for a TBM700 operating from Lexington, KY all across the country. In January 2012, a new Concorde RG-380E/44 battery was installed at 2,117.9 total times in service. This is a 42 amp/hour, 24-volt, 89-pound lead-acid battery that sells for nearly $3,000. Not a trivial investment.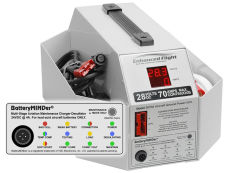 Enhanced Flight 70A GPU with BatteryMINDer


In 2014, we purchased the Audio Authority Model 2870A-B1 Ground Power Unit (GPU) with a built-in BatteryMINDer® maintenance charger-desulfator. We use the GPU to provide 28V DC for all sorts of airframe power needs like pre-flight inspections, cockpit database updates, procedures reviews, etc. We opted for the model with built-in BatteryMINDer thinking that whenever the TBM was in hangar storage, the maintenance charger would keep our battery fully-charged and the continuous desulfation would restore lost capacity. The BatteryMINDer's charger output is temperature compensated so it automatically adjusts its output as ambient temperature changes, so no risk of over- or under-charging. 
Now, three years and almost 900 flight hours later, I have seen the proof and wisdom of maintenance charging. Our TBM service center recently removed the battery and performed a capacity test using a BC-8000 tester. To remain airworthy and return to service, the battery must test under load to at least 85% of its rated capacity. Incredibly, our 5-year old battery scored 101.2%! My conclusion is that Concorde makes great batteries, and BatteryMINDer makes them last! 
Aviation batteries are very special, expensive, and typically have an airworthy service life in turboprops of 2-3 years. At five years, I would estimate our small investment in maintenance charging has doubled our battery life and saved us $3000. Of course, we enjoy saving money and reducing our operations costs, but I especially appreciate the confidence of knowing that my battery is always fully charged and airworthy, for reliable cool starts and emergency reserve power if needed.

- Laurent Jouët, TBM Pilot
Share this post