Audio Authority Corporation was established in 1976 when Jonathan Sisk opened a retail store specializing in upscale audio components. Key to his business plan was the ability to accurately demonstrate and compare competing products for his customers. But no high-quality, commercially available devices existed to equip his showroom, so he collaborated with his friend, Jonathan Gertz, and together they designed and built the Model One Efficiency Compensating Speaker Comparator.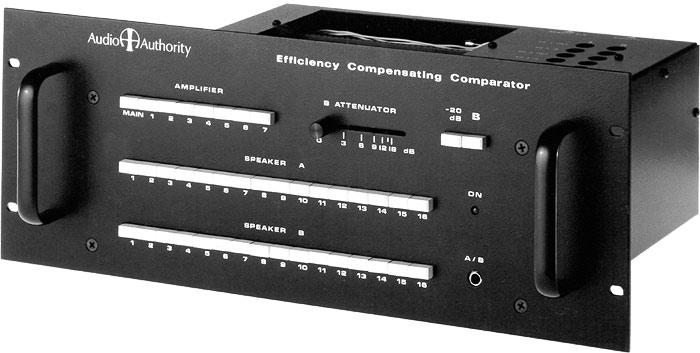 The original Model One Efficiency Compensating Comparator, our first product.
In 1986, Audio Authority sold its retail operations to focus solely on manufacturing and in 1989 built its own purpose-designed factory on a 4.5 acre campus in Lexington, from where it operates to this day.
Audio Authority products have continued to expand and mature in anticipation of new technologies and our customers' needs. Centralized, mechanical switching systems have long since been replaced by modular electronic switching modules connected by audio buses and communications networks. The integration of video for home theater in the 1990s made video signal distribution an integral part of our business. Today, software with its inherent flexibility provides the means to make hardware do more and add features as technology and markets change.
Audio Authority has defied the odds and trends by keeping its manufacturing here in Kentucky when most others moved their production offshore. Besides retaining jobs here in the USA, we believe our in-house production provides a level of flexibility, control, and response that our competitors cannot match and that customers value.
We invite you to explore our website to see the wide variety of products that we currently offer. Featured below are just a few of our legacy products that were landmarks along the path to establishing Audio Authority as a leader in design, engineering, manufacturing, service and support, all out of our facility here in the Bluegrass.