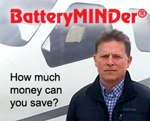 "…doubled battery life
and saved $3000."

TBM pilot Laurent Jouët
tells his story.
24-Volt 4-Amp Aviation BatteryMINDer

Aviation BatteryMINDer® 24-Volt
Model 244CEC1-AA-S2 - Now Shipping!



$245.00 USD
Key Features:


Full-time automatic battery charging / conditioning
US Patented pulse battery desulfation technology
Plug & Run automatic operation
Never over or under charges
Output automatically temperature compensated
Optional aircraft wiring kit available (BM-AIK2A)


Categories: Aviation BatteryMINDer, Aviation





| | | | | |
| --- | --- | --- | --- | --- |
| Detail view | What's included | Ready to connect | Piper Mirage | Charging stages |






Battery Charger/Maintainer/Desulfator 


Aviation-Specific, 24-Volt, 1/2/4-Amp





Universally recognized as the best battery charger for lead-acid aircraft batteries, the BatteryMINDer is designed to leave connected to your aircraft battery continuously during hangar storage. Its output is temperature-compensated to guarantee optimal charging without risk of damage from overcharging. It then maintains the battery while conditioning by safely dissolving built-up lead sulfate crystals, restoring lost cranking power and extending battery life. "Plug-N-Run" design for automatic operation and restart after power failure.

 Not for use with NiCad, Odyssey or Gill LT batteries. Comes with battery clip & ring terminal harnesses for easy battery connections, suitable for bench connections or experimental aircraft.

Don't forget to order an airworthy quick connect wiring kit (BM-AIK2A) for installation on FAA certified aircraft.

---

Tutorial: Extending Aircraft Battery Life
6 minute presentation:





Why Certified Aircraft Need this 
Quick Connect Harneess
3 minute presentation:




YouTube Video by Aero-TV 
Expert Advice From Concorde Battery:
Extending The Life Of Your Aircraft Battery 


 

Features:


Guaranteed never to over-charge, regardless of time or temperature (0°F - 130°F)
Temperature compensation ensures proper charge in hot or cold environments
Auto-selection for charge rate and battery types ensures 100% compliance with Concorde® specifications
Full-time pulsed desulfation in maintenance mode
Maximizes battery life and capacity, reconditions weak batteries
Plug and run operation
Microprocessor controlled pulsed output ensures 100% full charge
Battery diagnostics indicators
Ultra energy efficient to keep operating costs low
Automatic disconnect and resume if AC power is interrupted
Short circuit, spark, polarity and thermal runaway protection
6' AC input cord, 6' DC output cord with polarized quick connector (SAE)
1 year 100% money back guarantee, 5 year "no hassle" warranty
Input: 115VAC
Safely charges up to 200% faster than conventional chargers
Automatically dissolves power-robbing sulfation from lead storage plates using safe low voltage pulse technology (U.S. Patented)
Temperature compensation extends battery life by more than 200 Cycles (full charge-discharge cycles) with ABS temperature sensor
Vibration resistant, weather-proof enclosure - intrusion protected from water and dust per IEC STANDARD IP65

  

Included Accessories:

2' fused battery clip cord set with SAE connector for temporary/bench connection.
ATS-1 ambient temperature sensor for use with certified aircraft (installed).
Instruction manual.


Optional Accessories:

Model

 

BM-AIK2A Airframe Interface Kit for quick-connection to FAA certified aircraft.
Model RTA-2415EXP wiring kit for Experimental/Amateur-built aircraft.