Why Certified Aircraft Need this
Quick Connect Harneess
3 minute presentation:



Skip Koss, VP at Concorde Battery explains proper charger connections for aircraft batteries.


6 minute 

video

: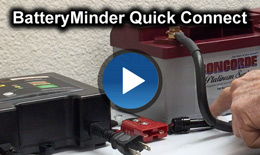 BatteryMINDer® Airframe Interface
The BM-AIK2B is a parts kit to adapt 12 volt aviation-specific BatteryMINDers for use with FAA-certified aircraft. The yellow connector conforms to industry standard color codes (yellow=12/14V, red=24/28v etc.). It may be installed by any certified mechanic (see this video tutorial). It does not require a Form 337 or FSDO field approval; all that is required is an entry in the maintenance logbook for return to service.
 BMAIK2
Components for Airframe Installation:
SB50 polarized plug with in-line fuse (assembly tips)
6' color-coded MIL-spec wiring
Insulating elastomeric dust cover
MIL-spec anti-chafe fiberglass sleeve
Ring terminals
Crimp splices
Installation instructions

Also Included (not for installation on aircraft):

An SAE to SB50 harness with handle and strain releif for adapting a BatteryMINDer's "trailer plug" output to a mating SB50 plug.


IMPORTANT: This harness is designed only for maintenance battery charging, not for supplying ground power for airframe operations. Disconnect the charger before turning on airframe electrical power. Reconnect the charger after turning airframe electrical power off to recharge and then maintain/desulfate the battery.