Each Access module must have a unique* address in the system. There are two elements to the address: the Group number and the Module ID.

Group numbers are set acording to these basic rules:

All sources are usually Group 0 (zero) and this number is often hard coded at the factory, with no switch visible on the module.
AVRs are always Group 4.
Car amplifiers are Group 4, 5, and 6 for front, rear, and sub, etc.
Front speakers are Group 4* to match front amps or receivers.
Other home theater speaker groups such as center, rear, ceiling, sub can be Groups 5, 6, 7, 8 in th order you want them to appear on the 903i  (if used).
Other car speaker groups such as tweeters, rears, full range, and subwoofers can be Groups 5, 6, 7, 8 to match car amplifiers.
Module ID numbers
The first module in any group is always 0 (zero).
Number the rest in sequence, not skipping any numbers.
If you have more than 10 modules in a group, flip the slide switch to the "10-19" position for modules 11-20 (addresses 10-19).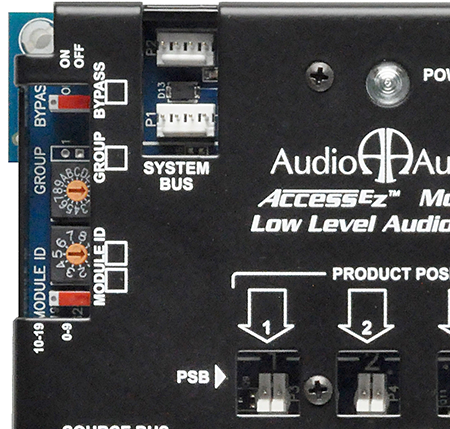 This 922 module has a Group dial that allows it to be a source module (Group 0) or an amplifier module (Group 4) or a Subwoofer Module (Group 5, 6, or 7, etc.).

For example systems, see the appendix in the access manual. Addresses are highlighted in yellow.