Easy Touchscreen Control
This touchscreen Comparator can be used for any Access

™

switching system including home theater and car audio applications. Features capacity for multiple product groups, custom product group names, A/B comparison, and pass-code lock to prevent tampering. 

Learn about the 903i 

A/B comparison function

.





Features:

Auto-setup allows immediate plug-and-play - no setup necessary
Easily enter your own names for product groups
Each product group "card" lets you swipe to see more product selections
Compare Systems mode presents dramatic side-by-side comparison
Pass-code protection for setup features
Activate the lockout feature to prevent customers from using the system without supervision
Tough steel bezel 
Connects to any vacant System Bus port (via included USB adapter, Model 1809)
Includes 12V 1.5A power supply (replacement supply is 571-043

 or equivalent

)

The Access System is unique in that the different modes of product selection may be used in the same system. This means that your system could contain a 903i Comparator, 906 Control Panel, and product select buttons. You can also disable the PSBs when you lock the 903i to prevent tampering. 


Installation Tip:
The Android operating system may generate a pop-up message within the first few times you reboot the tablet. Check the box and hit OK.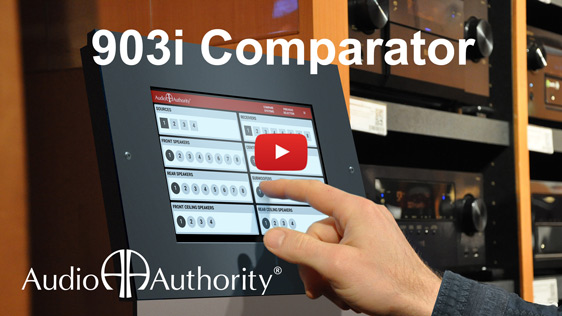 See the 903i Comparator in action in this two-minute video introduction.



Dimensions (inches)
*A notch may be necessary to accommodate the USB plug along the top right edge of the display.