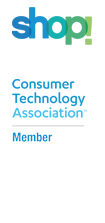 Switching System for a Small Display
The configuration of switch modules shown below has the capacity to demonstrate 4 head units, four amplifiers, and eight stereo speaker pairs.

A small system is usually operated by product select buttons next to each product, but since this display has multiple product groups, a 903i Comparator would be convenient, and it can be used with or without buttons. Like any AccessEZ system, adding more products in a product group or adding new product groups (such as rear amps and speakers) is as easy as adding switch modules.