The Access™ Demonstration System can be controlled via buttons next to each product, a control panel, touchscreen controller, or a combination of methods. Which one is best? It depends on the products you are demonstrating, and the level of self service you need.
Simple Systems
If you are switching one or two product groups, e.g. speakers, you should probably to use product select buttons, or a 906 control panel. If you have a large number of products in a single group, a 906 will be the cost-effective solution.
Multiple Product Types
If your system includes several sources, several amplifiers, and several speaker categories (e.g. front, rear, sub) then a touchscreen 903i Comparator is the right choice. You can use product select buttons, but a 903i will be a better, often more cost-effective, solution.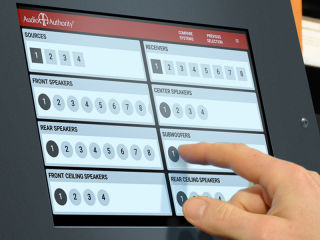 The touchscreen 903i Comparator lets the user choose products from multiple product groups.