Compact Amplifier for Retail Speaker Demonstrations
The Audio Authority® 1805 is a compact amplifier designed to provide amplification for speakers in retail demonstrations. Volume may be controlled via RS-232 or RS-485 using custom control devices such as a touch screen or capacitive touch panel. For best results use a commercial grade analog media player such as the Model 1803 or a BrightSign® media player. 
Features
Compact footprint for easy placement inside store fixture
Easy connection to media players such as BrightSign media players, or Audio Authority 1803 
Control with RS-232 commands from any serial controller
Control volume with custom touch panel, touchscreen, or other user interface
---
Specifications
Measurements with an 8 ohm load, both channels driven:
Frequency Response: 20Hz -20kHz (+/– 0.736dB)
12V power, THD 1%, 8.5 Watts 
12V power, THD 10%, 10.5 Watts



---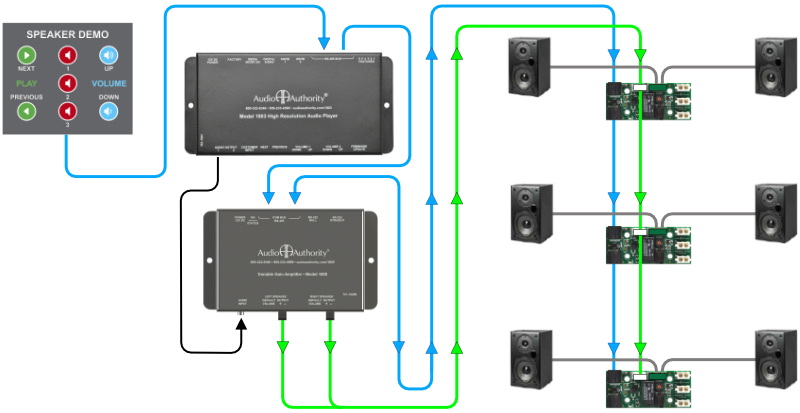 Example System: 
The 1805 sends amplified audio to the Model 1819 speaker switch modules (right) that route high level audio to the speakers. The 1803 media player (top) provides low-level input signal for the 1805 amplifier (bottom). The TS09 touch panel (left) controls the demonstration system via RS-485.