Interactive HD Demonstrator
The Model MH2-HD (and equivalent Model MH2-HS) combines BrightSign's media-playing muscle with the interactivity you expect from Audio Authority®. With a BrightSign digital signage module built-in, the MH2-HD produces flawless 1080p video and uncompressed audio, and Audio Authority's programming services make it easy to take advantage of all the custom capabilities made possible by BrightAuthor software. 

Extensive inputs and outputs on the MH2-HD provide many ways to interact – eight push-button ports and three serial ports for external control devices including touchscreens and touch panels. Use push-buttons and touch panels as transport controls and/or product selection and other custom commands. Media and BrightAuthor programming may be updated via Ethernet.
| | | |
| --- | --- | --- |
| | | |
Example:

Sound Bar Demo

The MH2-HD does more than play media in this full-featured sound bar demo - it coordinates a complex audio demo with lighting effects. Customers can audition sound bars, select media, add rear speakers, compare TV sound to sound bars, and adjust volume. Sound bars are selected using push-buttons on the right, triggering the first media file to play, and the shelf to light up. Lights under the shelf also highlight the selected subwoofer. The user selects media using a small touch screen. The rear speakers are powered via a smart amplifier that tracks volume control with the selected sound bar. The MH2-HD starts its silent attract mode after a period of inactivity, ready to attract the next customer.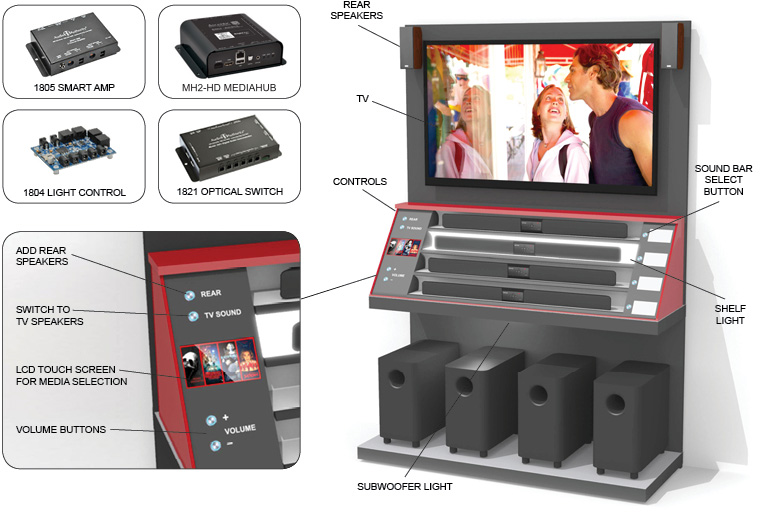 MH2-HD Specifications
Audio Formats: MP3 (mono or stereo) @ 44.4kHz or 48kHz, WAV (mono or stereo) @ 96kHz, 48kHz, or 44.1kHz
Video Formats: MP4 and MOV (without metadata) with AAC or AC3 audio (pass-thru)
Video Codecs: H.265, H.264 (MPEG-4, Part 10), MPEG-2, MPEG-1
Dimensions (HxWxD, inches):  5.4 x 5.2 x 1.8
Communication: USB-A, RS-485 control ports (x2), RS-232 port (Baud rate is software selected), Ethernet
SD or SDHC media card
Power Supply: 12V DC, 5A

More BrightSign Information