MediaHub DA

The Model MH4-HD adds multiple video outputs to the MediaHub platform. With a BrightSign digital signage module built-in, the MH4-HD produces flawless 1080p video and uncompressed audio, with all the custom capabilities made possible by BrightAuthor software. For demo systems that require multiple video sinks, the Model MH4-HD acts as its own 1:4 distribution amplifier, which reduces design complexity and installation time. Connect up to four HDMI sinks (televisions, soundbars, A-V receivers, etc.) to the player; each output provides identical 1080p video signal, and individual CEC control of the sink.
The Model MH4-HD is ideal for coordinating an HDMI audio or video experience, with multiple user interface options, and multiple ways to interface directly with AVRs, TVs, and sound bars via Ethernet, RS-232, or CEC communication. To keep presentations fresh in the field, update media content and BrightAuthor programming via Ethernet.



Audio-video player and distribution amp with integral BrightSign® digital signage module
Video output: 1920x1080 @ 60fps and up to 5.1 channel audio (HDMI x4)
Individual CEC control on each HDMI port
Digital or analog audio (combination 3.5mm jack)
Four push-button ports (RJ9, x4)
Control ports for switch modules, amplifiers, touch panels, or volume knob (RJ45, x3)
USB port for touch screen or other device (USB-A)
Ethernet port for remote updates or device control
Example:

Sound Bar vs. TV Sound Comparison
The MH4-HD takes care of audio-video distribution to four HDMI sink devices, and audio switching for sound bars and TVs is handled by a Model 1821 optical switcher. A TouchSelect panel by each sound bar allows the customer to start the sound bar playing audio, adjust volume, and toggle the audio from sound bar to TV speakers. To toggle TV sound, the MH4-HD mutes the TV using CEC control signals via the HDMI connection. This sound bar experience is coordinated by a BrightAuthor program on the MH4-HD MediaHub.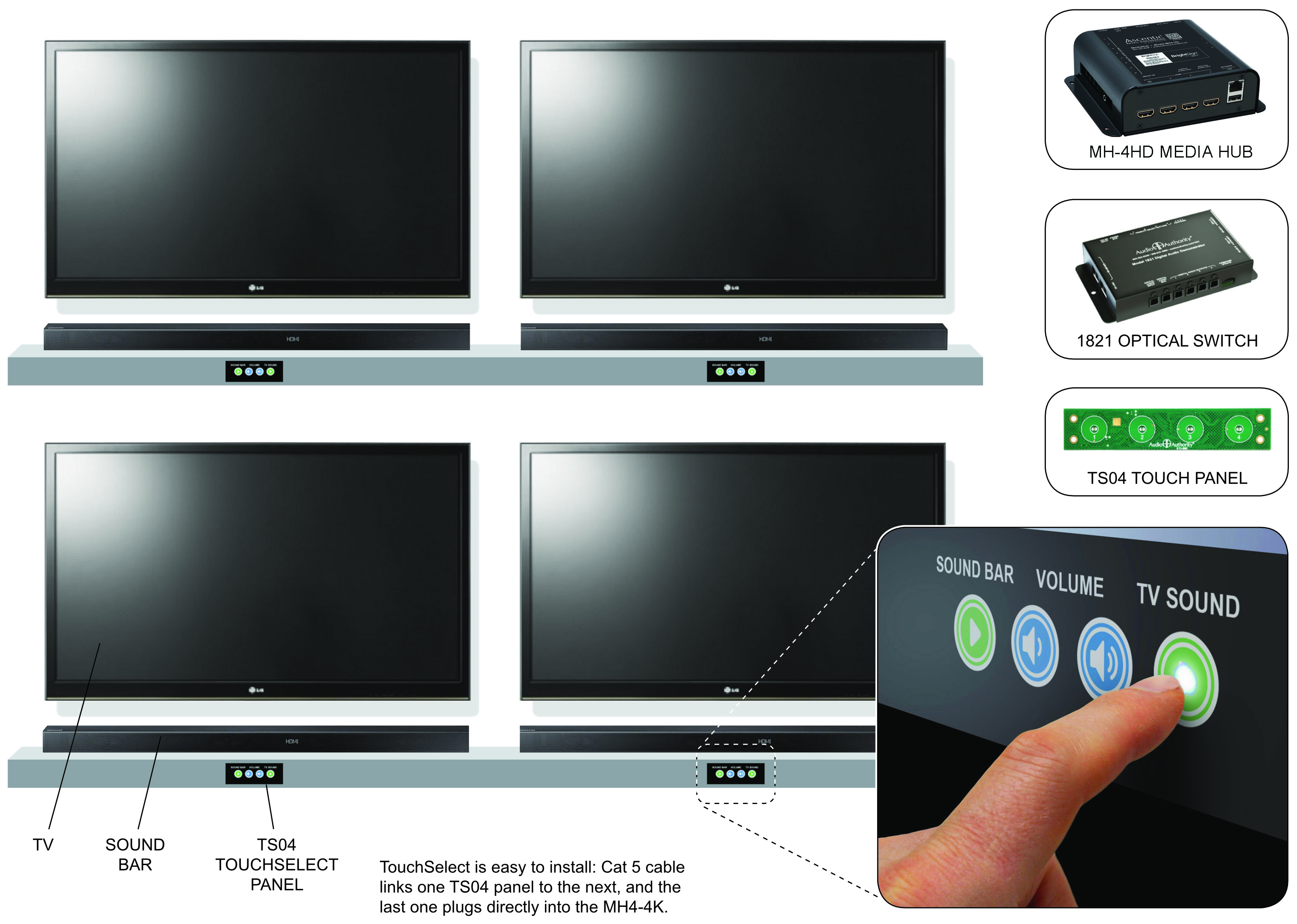 MH4-HD Specifications
Audio Formats: MP3 (mono or stereo) @ 44.4kHz or 48kHz, WAV (mono or stereo) @ 96kHz, 48kHz, or 44.1kHz
Video Formats: MP4 and MOV (without metadata) with AAC or AC3 audio (pass-thru)
Video Codecs: H.265, H.264 (MPEG-4, Part 10), MPEG-2, MPEG-1
Dimensions (HxWxD, inches):  5.4 x 5.2 x 1.8
Communication: USB-A, RS-485 control ports (x2), RS-232 port (Baud rate is software selected), Ethernet
SD or SDHC media card
Power Supply: 12V DC, 5A