Serious Power for Serious Headphone Shoppers
Designed with the output power to effectively demonstrate high-end headphones, the 1715 amplifier makes it possible to present the serious listener with a full demonstration of each headphone's true capabilities. Use our uncompressed audio player, Model 1703, to bring maximum fidelity to your customers.
The 1715 amplifier devotes its output to one selected pair of headphones at any one time to ensure optimal performance. It delivers analog audio signals with pristine clarity and smooth frequency response. The installer can adjust the gain on each 1715 to suit the output level appropriate to the sensitivity of the headphones connected to it. Headphones designed for use with smart phones do not require the high gain levels that are needed to drive models that have high impedance or low sensitivity. Each 1715 can be set to deliver just the right audio levels to its four headphone outputs.

Invite Customers to Connect their Personal Audio Devices
Customers buy products more often when they feel a connection to them. Using customer's music to demo headphones often makes good sense, and the 1715 headphone amp makes it easy. Simply provide a 3.5mm cable and the system does the rest. When a customer connects their MP3 player, the 1715 detects music on the cusomer input and overrides the default music source.



Flexible Designs


The 1715 allows you to design the right experience for your retail environment. You can make individual demo stations of four products each, or make a large system that limits live demonstration to one pair of headphones at a time in the entire system. The 1715 Demonstration System can be configured in many different ways - including the way you need it. Find information below, or call your Account Manager about system design.


Features

High fidelity headphone amplification to showcase premium headphones

Adjustable gain - set gain levels for the sensitivity and impedance of headphones on display

Retail-hardened selector buttons are user friendly, and durable

Demonstrations can be set to time out after a few seconds, minutes, or never

Automatic selection of customer audio source when connected and playing

Cascade up to four units that share a source and coordinate product selection




Basic headphone demonstration system.

Click for more.




Note: the 1715 Theft Alert feature is no longer supported.
1715 Tech Tip:

  Add 4k Video to Your Demonstration
Its easy to add video to your presentation by adding a media player and LCD video screen.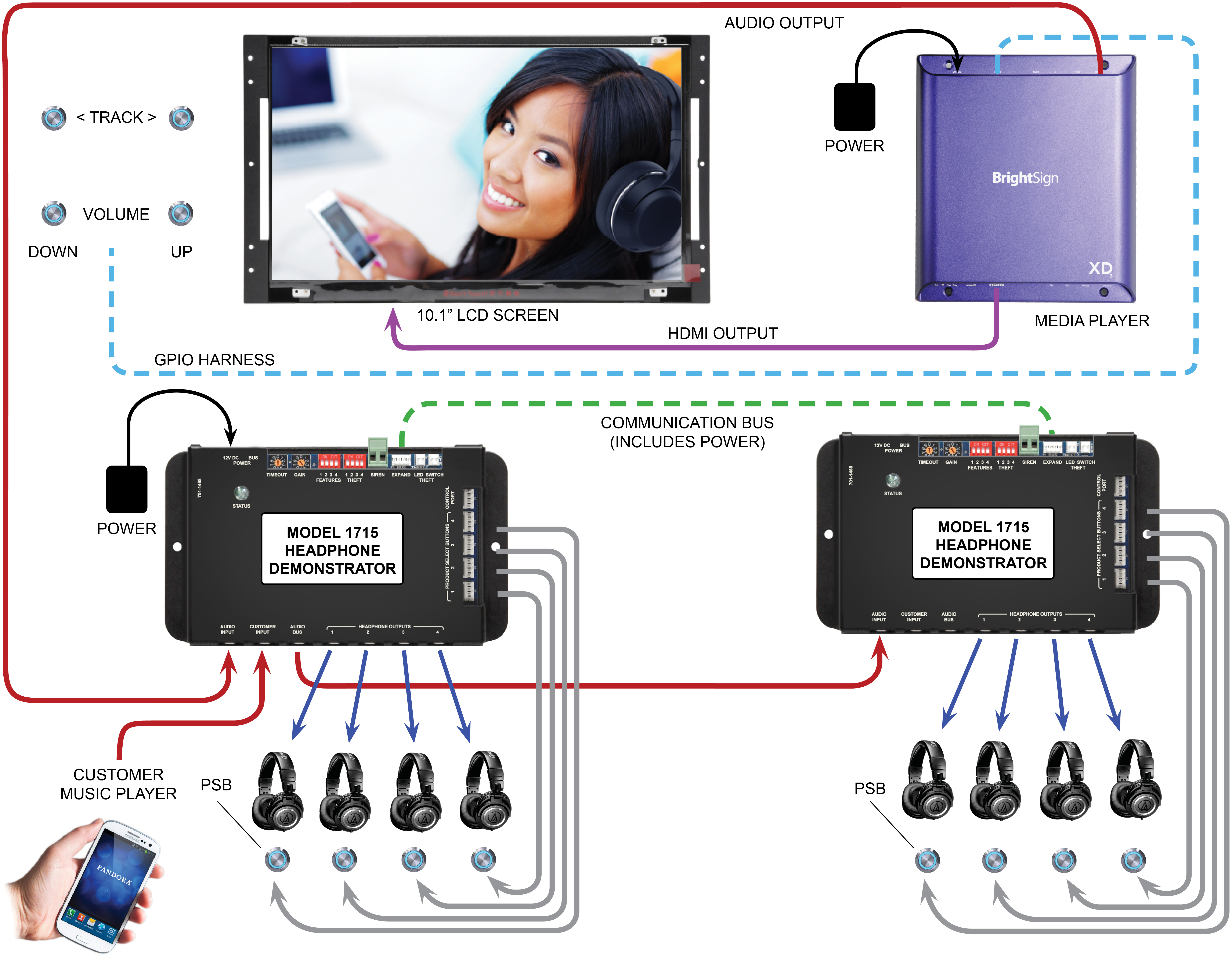 ---
Specifications
| | |
| --- | --- |
| Power (@ 1% THD+N, 1kHz) | 400 mW into 32 ohms |
| Frequency Response | 12Hz -23kHz (+/– 0.5dB) |
| S/N Ratio | 96dB |
| THD+N @ 1VRMS, 1 kHz | 0.07%  |
| Input Impedance | 10K ohms |
| Minimum Load Impedance | 8 ohms |
| Power Input Connector | 5.5 X 2.1mm |
| Input Voltage/Polarity | 12VDC center positive |
| Max Input Current | 160mA |
| Power Supply | 571-013 |
---
Gain Settings
Power rating taken
 at 1% THD+N, 1kHz input, using 32 ohm load.
| | |
| --- | --- |
| Gain | Power (mW) |
| 0 | 0.946 |
| 1 | 1.513 |
| 2 | 3.200 |
| 3 | 5.253 |
| 4 | 13.613 |
| 5 | 29.829 |
| 6 | 71.821 |
| 7 | 187.119 |
| 8 | 476.288 |
| 9 | 493.025 |
---